Bookings for Freedive Yachting 2019 are on!
December 3, 2018
Summer is just around the corner and just as every year before now, we are excited to work on amazing spots Freedive Yachting crew will take you to. This year's trip will again take us to the islands of Vis and Hvar and beautiful freediving spots surrounding them. To get you all fired up for your summer season we listed our favourite spots below. Finally, we are introducing a few novelties this year, so don't forget to check our liveaboard boat and special, early bird prices to save you a spot on the trip (and a few bucks).
See you aboard!
"FISHERMAN" WRECK, ŠOLTA ISLAND
"Fisherman" wreck lies 28m deep on the sandy seabed. It is 29m long, 6m high and 6m wide. It is a perfect spot to warm up for the following (even more exciting) freediving spots.
TETI WRECK, VIS ISLAND
Teti wreck has been known as one of the most popular scuba diving spots in the Adriatic Sea. It offers depths from -10m to -35m just couple of meters from the shore, which makes it a great freediving location as well. It sunk in May 1930 and since then it is a home for lobsters, congers and scorpion fish.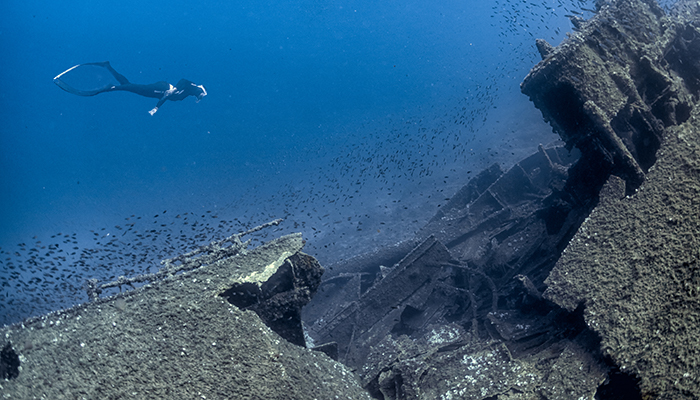 GREEN CAVE, VIS ISLAND 
Green cave is a magical place where you can observe a wonderful play of light. It has been extremely popular among underwater photographers who won many awards with the shots made there. It will leave you breathless (pun intended) and with a bunch of great freediving memories.
CLIFFS, VIS ISLAND 
It is fascinating to see high cliffs falling down deep into the ocean. With crystal clear water and great depths just couple of meters from the shore we will reach amazing spots for deep freediving.
LUCICA CAVE, BRAC ISLAND 
The cave starts at a depth of three meters and goes all the way down to  -40m. There you can witness an amazing light for unique underwater photos. It is definitely a spot we should not miss on our trip and the location is just right for a wrap up of our unforgettable freediving holiday.